Around The World Camp 2022 is Hampshire Beaver Scouts' County Beaver Scout Weekend Camp. It will be held during the weekend of 18-19 June 2022.
Building on the success of our events in 2017 and 2019 (and for some reason delayed from 2021) we are back at Ferny Crofts in the New Forest for a chance from Beavers to come together from across the county for a weekend of fun. Beavers will have the chance to take part in adventurous activities including climbing, crafty fun and also explore the world without leaving the county!
Beavers will be on site Saturday morning until after lunch on Sunday with leaders able to arrive on Friday evening to set up if they wish. The cost of the camp is £35 per Beaver Scout to include camping, activities, goody bag and t-shirt. Catering is available optionally for an additional £12 per person (to include Saturday lunch and dinner and Sunday breakfast and lunch). Leaders are £10 each including goodies and the t-shirt is optional at £6.
Leaders will need to register their interest using this system and send a deposit of £10 per participant. The deposit is due within 2 weeks of booking to secure your places. Click here to register the interest of your group.
If you have any questions regarding Around The World Camp 2022 please contact [email protected]
Book now at bvr.org.uk/world
**The design competition has now closed this page will be updated with badge and trail info soon**
After 4 successful years of Ginormous Teddy Bears' Picnics for Murray Parish Trust we are very excited to be joining in with their next adventure (as well as hopefully some more picnics!). In the summer of 2022 there will be a trail of Hares around Winchester and Southampton, similar to Southampton's previous Zebra and Rhino trails, which anyone can go and find. Hampshire Beavers and Cubs are joining in and will be sponsoring 3 of the leverets (baby hares) that will also be part of the trail in Winchester. One of our leverets will be on the trail looking smart in his uniform while the others will be designed as part of competitions open to Beavers and Cubs.
We will also be making resources to encourage colonies and packs to visit Winchester to see all the hares and leverets. (we will make resources for the older sections too and the Southampton trail though our leverets will be in Winchester). Once the trail is over the 3 leverets will be ours to keep so I am sure they will love the chance to go on tour around the county.
I can now launch the exciting design competition to find the look for our Hampshire Beavers leveret! The winning design will be created by some amazing artists ready to be seen on the trail in the summer. I need entries by 4th March to ensure we can get them made in time. There are 2 different forms below, one that would be good to use as home work or a half-term holiday project which can be sent back to us here (Direct) or one that can be used in you colony. Either way entries have to get back to us by 4th March so if you want entries to go through you set an earlier deadline (Colony). Entries can then be emailed to [email protected]
Hampshire Beavers Leveret Design Competition - Direct entries
Hampshire Beavers Leveret Design Competition - Colony entries
All,
As we navigate these interesting times the team and I was rather hoping that I could you could assist us in finding a way of making it easy for you lovely Leaders in getting more Beavers through their Chief Scout Bronze Award?
This would help in addressing HQ's aspiration of getting at least half the Young People in the association, their top award by 2023.
Just a reminder that for a Beaver Scout to achieve their Chief Scout Bronze Award, they need to complete all the current challenge awards
• My world challenge
• My skills challenge
• My outdoors challenge
• My adventure challenge
• Teamwork challenge
• Personal challenge
As well as achieve any four activity or staged activity badges.
With that in mind, may I ask you to respond to the survey questions below, it should take less than 10 minutes and will greatly benefit the County team in helping you.
Please put your District, Group and Contact details on all responses and thank you ever so much. This is thinking mainly about non-Covid times which we hope are gradually returning, we know Covid will have added additional challenges but that is not the purpose of this survey.
Visit bit.ly/3sbujpf to complete the survey.
Yours In Scouting
Michael Collins
ACC Beavers
As Scouts we love to get outdoors and try new things. But with winter and everything going on, we know its hard to think of ideas of what to do right now. To help you deliver great online Scouting, we've pulled together our list of places to find great ideas.
Press Play activities
These two sources of activities are much newer so you may not have heard much about them yet. Both of them are prepared by Scout leaders for Scout leaders and you can pick them up and run them with your section without much planning or adaptation needed.
Press Play and Go activities are made by HQ and have a video activity you can share with your Zoom session directly with the video doing all the work. New activities arrive every week and there are activities for Beavers/Cubs and Scouts/Explorers.
1st Digital Scouts is the new kid on the block with videos by Scout Content. These videos are nice and short, follow a good structure for zoom sessions, and give you up front what you'll need. There are weekly videos for Beavers, Cubs, Scouts and Explorers ready to go.
Ideas from the grassroots
Across the UK there are loads of other leaders looking for ideas and sharing what they've found in various different Facebook groups. 1st Virtual Scout Group on Facebook and 1st Facebook Scout Group are the big ones. The posts in these groups are easily searchable and linked together in topics.
There are lots of activities out there including PowerPoints for activities, games, escape rooms and links to more external resources. Lots of charities are offering activities that can work over Zoom, the RNLI being a good example, and there are many guest presenters that leaders can invite to show off their skills or animals or whatever!
Activities linked to badges
So you may know about the new Scouts Activities tool already – it replaced the old Programmes on a Plate and is linked to the Programme Planning Tool that HQ is building and adding to. Throughout this weird time, the Scouts and the partners have been adding to this Activity index and adding new filters to make it searchable – so you can look at just online activities for example.
More usefully though, these activity listings can also be found on the pages for different badges on the Scout websites. At the bottom of these pages, below the badge requirements, is a box with activities that can be used to tick off these requirements. While some might need tweaking, there are lots of activities that you can use to get things started.
Some other honorable mentions:
Scoutadelic are a YouTube channel run by Scout leaders and they make great videos teaching lots of different scouting skills from first aid to campfire songs.
Chester Zoo have made lots of resources and activities to support people at home, with fun activities, spotting the signs of your animal visitors and more practical experiences pitched at lots of different age ranges.
Scout Adventures have long made resources to support leaders with practical Scout skills and their page also has some smashing recipes as well.
The Scouts have put together some virtual programme support webinars, to help with the basics of running a putting over Zoom if you're feeling unsure about how it will all work.
Do you need help with getting your section to meet and take part in activities or can you offer support to another group? Please do reach out and contact our programme team, who are always happy to help provide support!
scouts.org.uk/volunteers/staying-safe-and-safeguarding/risk-assessments
We all do risk assessments or safety checks everyday, for example, when we cross the road. We choose an appropriate place to cross, look both ways and make a decision about whether it's safe to cross.
We know that children and young people learn by doing. Activities encourage the development of young people and they can feel a huge sense of achievement in completing them. We want to provide EXCITEMENT but not DANGER; ADVENTURE but not HAZARD.
Risk Assessment starts in the early stages of activity planning and goes on throughout the activity until all participants go home at the end of the activity. There are five simple steps. If you've done risk assessments elsewhere, these should look familiar.
Click here for the Hampshire Scouts Pennant template
Hampshire Scouts have embarked on a new project involving every Section, Group and Unit in Hampshire, bringing us all together as we start to return to normal Scouting. The idea is for each Section, Group and Unit to create a pennant so we can join them together and display them at Activity Centre locations and future events.
We would like your Section, Group or Unit to design and draw these pennants, using the provided template. For your pennant, we would like your young people to draw a picture on the front of something they enjoy within Scouts, or something they are looking forward to doing. On the back of the pennant, please can you include some information about your Section, Group or Unit (your Section/Group name and Group logo/badge) and the first names (no last names) of the young people within your Section, Group or Unit (this can be handwritten or typed). Please send in your ONE chosen pennant per Section.
We will leave the activity up to you to plan, but this could be done face to face (following the COVID guide lines) or virtually. One idea would be to run it as a competition, where each young person designs the front of the pennant and a winner is chosen. This can also count towards certain badges, like the creative activity badge.
Once you have drawn your pennant, please copy it and keep a copy for your Section/Group/Unit, then please email it to us at [email protected] If you would like to see your pennant displayed at our Christmas event, please send them in by the 5th December 2020.
If you have any questions, please contact us at [email protected] 
click here to see an example Programme-Pixies-Pennant.pdf
Did you know there is a newsletter for all our wonderful Beaver Scout Leaders across Hampshire?
This is in addition to the Hampshire Scouts Update and is published roughly monthly or when we have some exciting news. It is available to Assistant District Commisioners, Leaders and any other adults or Young Leaders in the Beaver Scouts section.
Click here to sign up for the leaders newsletter.
Things will look a little different for the Hampshire Beaver Scouts Teddy Bears Picnic this year - but that won't stop hundreds of 6 to 8-year-olds from enjoying themselves.
Young people will enjoy the event from their homes, which will will form the third year of partnership with the Murry Parish Trust, a charity which supports children's emergency services across the South of England by raising money and awareness to support projects at key trauma centres.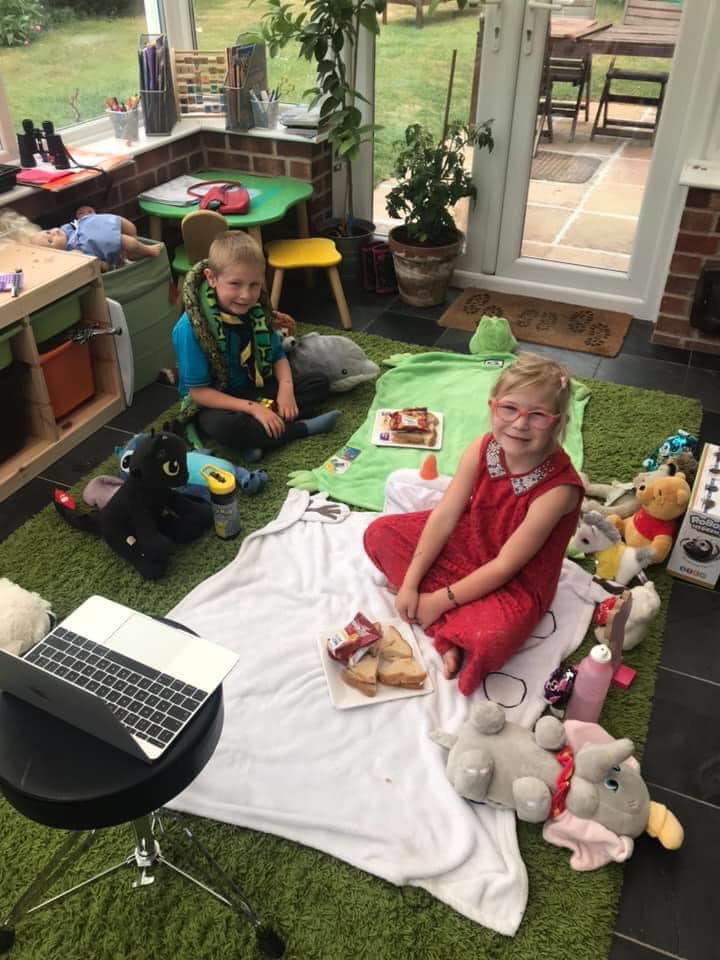 Over 2018 and 2019, Beaver Scouts came together at picnics across Hampshire to raise more than £2,000 towards the fundraising for a new Children's A&E at Southampton General Hospital.
As the original plans for 2020 couldn't continue, due to the temporary suspension of face-to-face Scout activities, it became clear things would be a little different and a digital spin would need to be put on the event.
Jess and Caitlin, Beaver Scouts from Tadley, said they always find the event fun: "The Picnic was a great get together, we really enjoyed the scavenger hunt and all the different things people were finding.
"It was a good to see all the beavers and leaders we know and all the beavers from other lodges.
"The singing was fun especially watching mum and dad's faces when badger was leading us as we sang the eclair song."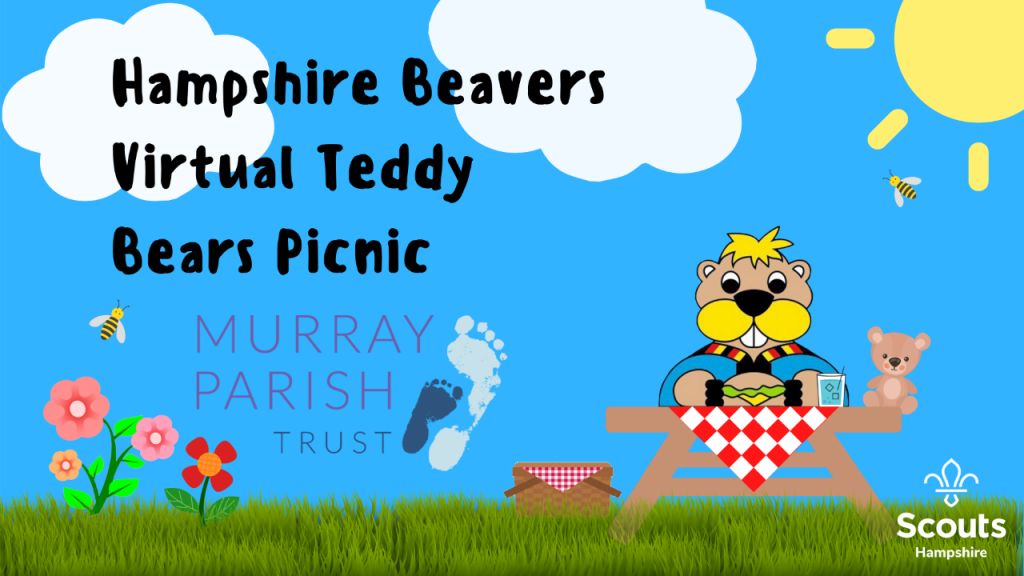 The month of June is the core month for Ginormous Teddy Bear's Picnic so we made that the core month for Hampshire Beavers Ginormous Teddy Bears Picnic for Murray Parish Trust 2020.
To take part, groups can run a picnic over a video-call, photo challenge, or even set up a teddy bear trail through their community.
We already have more than 400 Beaver Scouts, Young Leaders and leaders signed up and for each one with at least £1 going to Murray Parish Trust who, in this unusual year, are concentrating their efforts on all our healthcare heroes in the NHS.
Michael Collins, the volunteer manager for Beaver Scouts in Hampshire, praised the efforts of volunteers and families who have supported with planning the online-digital event.
He said: "While 2020 has been a challenge for all of us I think that our picnics will help make some great memories while also raising funds for a great cause."
Click here for more information on the picnic - and how you could get involved
Free resources? Yes please! A growing number of organisations have made resources for us to use to help deliver the Beaver activity badges quickly and easily. Let's take a look at 5 activity badges with great resources thanks to supporters.
Animal Friend with Pets at Home
Pets at Home's support for the Animal Friend badge is two pronged: store visits and activities.
Beaver colonies can arrange for visits to Pets at Home stores to see animals, learn how to look after them and maybe even stroke them! Memories made for any young person so one to put in the diary for when face to face Scouting resumes.
The list of activities though is not limited to one place or time. With a whole host of activities from Make Do Share ready to use there is also a whole activity book which our young people and pick up and earn.
Discover it all at scouts.org.uk/supporters/petsathome
Hikes Away and Nights Away with Go Outdoors
Where do we start with Go Outdoors? Well how about the discounts: 10% off for Beaver Scouts and 15% off for leaders.
Plus there are booklets specifically for preparing for a hike and night away getting our Beavers to think about what they'll need. Plus there are Make Do Share activities on exploring the countryside code, caring for our boots and a whole book on Campfire Cooking!
Grab your gear at scouts.org.uk/supporters/go-outdoors
Digital Maker with Raspberry Pi
Our Beaver Scouts these days practically live on computers but do they know how it all works? This is such an important skill these days but you may not know how to begin or how to make a six year old understand. Enter Raspberry Pi.
If you thought of dessert then think again. They make a small, easily codable computer (think BBC Micro but the size of a credit card) that older children often learn how to use and they're all about teaching kids how computers work.
They've made a series of packs that cover every part of the Digital Maker badge with fun direction games that ground them in Scouts trademark outdoor activities. Plus there are videos to help you as well so anyone can use it.
Don't have an internet connection? No problem because having no computer won't stop you from understanding how a computer works.
Connect at scouts.org.uk/supporters/raspberrypi
Health and Fitness with Jaffa
Multiple activity sheets for every part of the Health and Fitness activity badge looking at exercise and a healthy diet. And that's before you consider all the Make Do Share activities and games to use (wordsearch for wet camps or entry time anyone?).
Plus you can download a voucher for £1 off every Jaffa product to get your young people eating healthily.
Find all the juicy details at scouts.org.uk/supporters/jaffa
Global Issues with Recycle Now
Recycle Now are all about helping your Beavers learn about recycling and why it is vital to saving our planet. They provide activities to help support some parts of the Global Issues badge, namely the recycling and endangered animals parts.
These activities have a real joined up approach and work towards different parts of different badges.
You can complete the cycle at scouts.org.uk/supporters/recyclenow
Whether you're a brand new leader or an old hand at this, the Scouts' new programme planning tool is here for you so you can run your colony with ease.
Available at scouts.org.uk/programme-planner, it's the result of years of work and is full of ideas directly linked to badges, awards and the Chief Scout's Bronze Award.
A programme on a plate.
Starting out or don't know where to start? When you create a new programme then you have the option to import a full 2 year programme with a host of varied sessions that together cover everything you would need in the programme.
Plus as it covers all the challenge awards, a Beaver Scout who follows this programme for a full 2 years will do all they need to earn their top award – the Chief Scout's Bronze Award. This is especially good if you find not many of your Beavers are reaching the top at the moment. Why not spend a few minutes giving it a glance.
Take a pick of your activities.
Picture the scene. You need to teach three knots for the My Outdoors Challenge but the way you've always done it doesn't seem to hold their attention. We don't want to force them to do something they don't like, we don't want to moan at them but we also don't want to stop them earning their top award. What to do?
The programme planning tool can help here as well. The tool is packed full of activities that work towards the badge requirements and often in ways you wouldn't have thought of first time. Plus for badge requirements these activities are super easy to find. Just find the badge on the scouts website and underneath it is a teal coloured box with loads of activities that you can use for this badge.
So for that knotty problem a quick look gives you an idea to try the 'Tie a Tasty Reef Knot' activity and who knows, it may be all your Beavers need.
How good are the activities?
The activities include everything you might need to think about including safety messages, reflections, print outs and resources and which groups it works well for. These activities have really come into their own since the coronavirus pandemic as lots can be repurposed easily for the Great Indoors.
And for those who prefer OSM activities then we have good news for you. A lot of these activities are so good they've been included in OSM's activities database as well.
Why not give it a go today.